Rocket Internet (ETR:RKET) Upgrade of Rating
Trading of Rocket Internet (ETR:RKET)'s shares is going to be interesting today, as UBS AG increased the stock to a "Buy". Along the rating upgrade, UBS AG analysts gave a target price of EUR 50.00 or 75.44% more.
In spite of the rating upgrade ETR:RKET is at the moment trading -0.89% lower at EUR 28.50 as of 04:46 Frankfurt time. Rocket Internet shares have declined -43.84% in the last 200 days, while the S&P500 has dropped -3.31% for the same time period.
According to data compiled by Thomson Reuters, Rocket Internet (ETR:RKET)'s stock is covered by 8 equity analysts across the Street, with 1 analysts giving it a Sell rating, 6 a Buy rating, while 2 consider it a Hold. The 12-month consensus target price for the stock is EUR 50.25, which reflects an upside potential of 76.32% over the current price.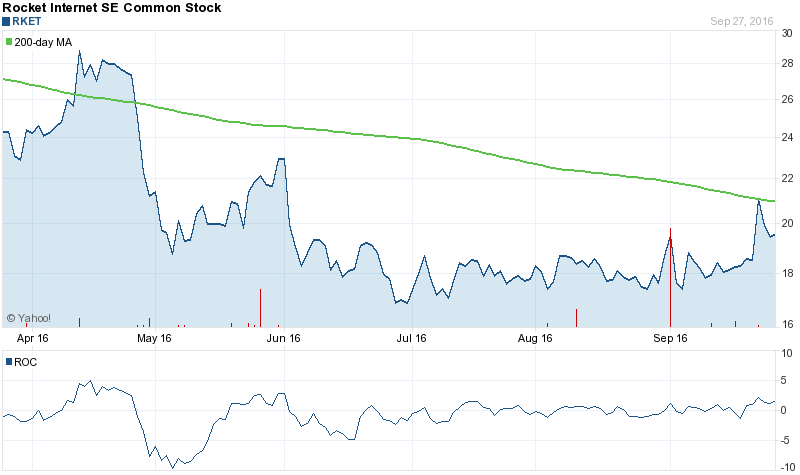 Rocket Internet (ETR:RKET) Profile
Rocket Internet AG is a Germany-based company active in the investment management and fund operator industry. The Company identifies, builds, scales and retains ownership of Internet companies. It mainly operates in three sectors: e-commerce, including retail companies in the areas of fashion, general merchandise, home and living, office supplies and food groceries; marketplace, comprising companies active in fields such as real estate, travel, transport and food delivery which offer buyers and sellers venues for direct transactions, among others; and financial technology, containing companies bringing together borrowers and lenders in areas like the consumer and small and medium-sized enterprise segments.
Rocket Internet (ETR:RKET) traded down -0.89% on 2 October, hitting EUR 28.5. A total of 751,404 shares of the company's stock traded hands. This is up from average of 311,219 shares. Rocket Internet has a 52 week low of EUR 21.07 and a 52 week high of EUR 60.22. The company has a market cap of 3.96 billion EUR and a P/E ratio of 0.
Related Articles