SMA Solar Technology (ETR:S92) Upgrade of Rating
Deutsche Bank AG has raised SMA Solar Technology (ETR:S92) stock to "Buy" in analysts note issued to investors and clients on Friday morning, and has set an estimated 12-month target price per share at EUR 40.00. This target is 6.78% from S92's last price.
In spite of the stock rating upgrade ETR:S92 is at the moment trading -3.07% lower at EUR 37.44 as of 04:48 Frankfurt time. SMA Solar Technology's stock is up 149.65% over the last 200 days. It has outperformed the Standard & Poor's 500 index, which has declined -3.31% over the same time.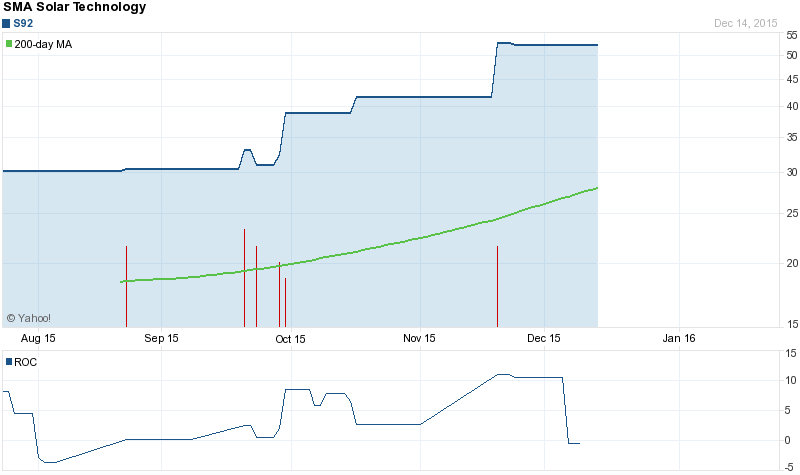 SMA Solar Technology (ETR:S92) Profile
SMA Solar Technology AG is a German holding company engaged in the solar technology sector. It operates five divisions: Medium Power Solutions; Power Plant Solutions; Service; Zeversolar, and Railway Technology. Medium Power Solutions division covers the Sunny Boy, Sunny Mini Central, Sunny Island product families, as well as develops products for monitoring photovoltaic systems and energy management.
SMA Solar Technology (ETR:S92) traded down -3.07% on 2 October, hitting EUR 37.44. A total of 330,318 shares of the company's stock traded hands. This is up from average of 225,888 shares. SMA Solar Technology has a 52 week low of EUR 10.27 and a 52 week high of EUR 39.34. The company has a market cap of 1.21 billion EUR and a P/E ratio of 0.
Related Articles