In today's session Total SA (ADR) (TOT) registered an unusually high (798) contracts volume of call trades. Someone, most probably a professional was a very active buyer of the November, 2015 call, expecting serious TOT increase. With 798 contracts traded and 1453 open interest for the Nov, 15 contract, it seems this is a quite bullish bet. The option with symbol: TOT151120C00050000 closed last at: $1.8 or 16.3% down. The stock is up 0.48% or $0.24 after the news, hitting $50.69 per share. About 862,606 shares traded hands. Total SA (ADR) (NYSE:TOT) has risen 2.27% since March 18, 2015 and is uptrending. It has outperformed by 5.54% the S&P500.
Analysts await Total SA (ADR) (NYSE:TOT) to reports earnings on October, 29 before the open. They expect $0.72 earnings per share, down 53.85% or $0.84 from last year's $1.56 per share. TOT's profit will be $1.73B for 17.60 P/E if the $0.72 EPS becomes reality. After $1.34 actual earnings per share reported by Total SA (ADR) for the previous quarter, Wall Street now forecasts -46.27% negative EPS growth.
Out of 6 analysts covering Total SA (NYSE:TOT), 5 rate it "Buy", 0 "Sell", while 1 "Hold". This means 83% are positive. Total SA was the topic in 7 analyst reports since August 24, 2015 according to StockzIntelligence Inc.
Total S.A. is an energy operator. The Company operates through three business divisions: an Upstream segment, including alongside the activities of the exploration and production of hydrocarbons, the activities of gas and power; a Refining & Chemicals segment constituting an industrial hub comprising the activities of refining, petrochemicals and specialty chemicals and also includes the activities of oil trading and shipping; a Marketing & Services segment, including the global activities of supply and marketing in the field of petroleum products, as well as the activity of new energies, and a Corporate segment, which includes holdings operating and financial activities. The company has a market cap of $121.54 billion.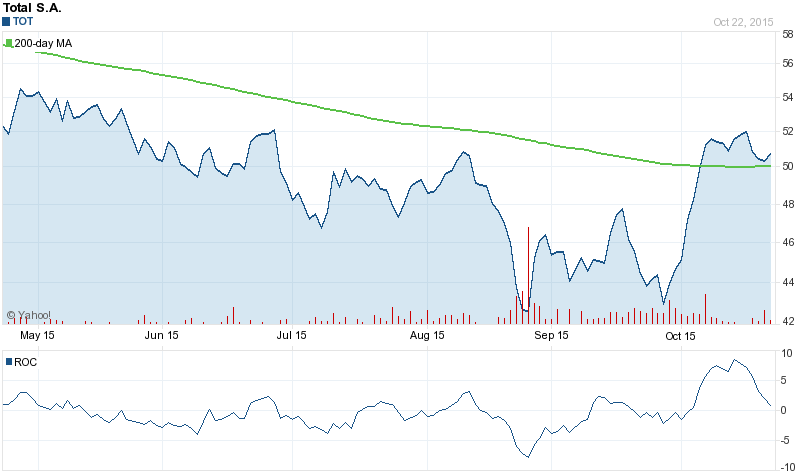 Total SA - Receive News & Ratings Via Email - Enter your email address below to receive a concise daily summary of the latest news and analysts' ratings with MarketBeat.com's FREE daily email newsletter.