In today's session Diageo plc (ADR) (DEO) recorded an unusually high (28,690) contracts volume of put trades. Someone, most probably a professional was a very active buyer of the January, 2016 put, expecting serious DEO decrease. With 28,690 contracts traded and 28898 open interest for the Jan, 16 contract, it seems this is a quite bearish bet. The option with symbol: DEO160115P00105000 closed last at: $1.15 or 8% down. The stock is up 0.01% or $0.01 after the news, hitting $115.28 per share. About 600,881 shares traded hands or 25.89% up from the average. Diageo plc (ADR) (NYSE:DEO) has declined 0.79% since March 23, 2015 and is downtrending. It has outperformed by 0.60% the S&P500.
Out of 16 analysts covering Diageo (NYSE:DEO), 10 rate it "Buy", 1 "Sell", while 5 "Hold". This means 63% are positive. Diageo was the topic in 16 analyst reports since July 31, 2015 according to StockzIntelligence Inc.
Diageo plc is a drinks business company. The company has a market cap of $71.93 billion. The Firm is a well-known provider of beverage alcohol of various brands in spirits, beer and wine. It has 19.89 P/E ratio. The Firm produces its brands from more than 200 sites in over 30 countries.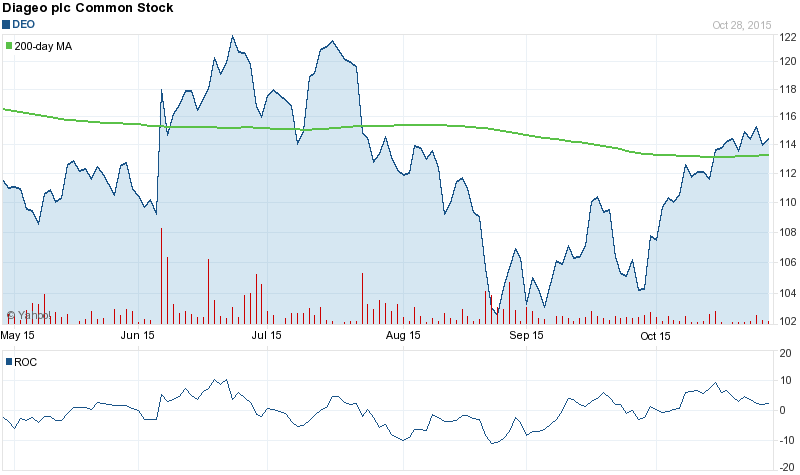 Diageo plc - Receive News & Ratings Via Email - Enter your email address below to receive a concise daily summary of the latest news and analysts' ratings with MarketBeat.com's FREE daily email newsletter.