Sentiment for Barnes & Noble Inc (NYSE:BKS)
Barnes & Noble Inc (NYSE:BKS) institutional sentiment increased to 1.16 in Q2 2015. Its up 0.03, from 1.13 in 2015Q1. The ratio has improved, as 99 active investment managers increased and started new holdings, while 85 sold and trimmed equity positions in Barnes & Noble Inc. The active investment managers in our partner's database now possess: 47.05 million shares, up from 43.18 million shares in 2015Q1. Also, the number of active investment managers holding Barnes & Noble Inc in their top 10 holdings increased from 4 to 8 for an increase of 4. Sold All: 32 Reduced: 53 Increased: 65 New Position: 34.
Barnes & Noble, Inc. is a retailer of content, digital media and educational products. The company has a market cap of $1.01 billion. The Company's divisions include Barnes & Noble Retail and NOOK. It currently has negative earnings. The Firm is a content, commerce and technology company, which provides access to trade books, textbooks, magazines, newspapers and other content across its multi-channel distribution platform.
About 447,292 shares traded hands. Barnes & Noble, Inc. (NYSE:BKS) has declined 44.21% since March 13, 2015 and is downtrending. It has underperformed by 42.77% the S&P500.
Analysts await Barnes & Noble, Inc. (NYSE:BKS) to reports earnings on December, 3. They expect $-0.31 EPS, down 358.33% or $0.43 from last year's $0.12 per share. After $-0.68 actual EPS reported by Barnes & Noble, Inc. for the previous quarter, Wall Street now forecasts -54.41% EPS growth.
Barnes & Noble, Inc. is engaged in the retail sale of trade books (generally hardcover and paperback consumer titles, excluding educational textbooks and specialized religious titles), mass market paperbacks (such as mystery, romance, science fiction and other popular fiction), children's books, off-price bargain books and magazines. These collectively account for substantially all of the company's bookstore sales. Bestsellers represent only a small portion of the Barnes & Noble store sales.
Towerview Llc holds 23% of its portfolio in Barnes & Noble, Inc. for 1.83 million shares. Abrams Capital Management L.P. owns 5.12 million shares or 9.02% of their US portfolio. Moreover, Gendell Jeffrey L has 6.47% invested in the company for 1.47 million shares. The Connecticut-based Silver Point Capital L.P. has invested 4.31% in the stock. Selz Capital Llc, a New York-based fund reported 710,000 shares.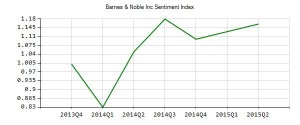 Since March 11, 2015, the stock had 2 insider purchases, and 1 sale for $11.99 million net activity. Cowen Scott S bought 5,000 shares worth $65,381. Riggio Leonard bought 1.00M shares worth $12.59M. Carey Jaime sold 25,000 shares worth $670,677. Troia Christopher sold 27,271 shares worth $641,035. The insider Deason David S sold 922 shares worth $21,418.
Ratings analysis reveals 75% of Barnes & Noble Inc.'s analysts are positive. Out of 4 Wall Street analysts rating Barnes & Noble Inc., 3 give it "Buy", 0 "Sell" rating, while 1 recommend "Hold". The lowest target is $19 while the high is $25. The stock's average target of $22.67 is 74.25% above today's ($13.01) share price. BKS was included in 4 notes of analysts from July 27, 2015. Gabelli initiated the shares of Barnes & Noble Inc. in a note on October 12 with "Buy" rating. Stifel Nicolaus maintained Barnes & Noble Inc.'s stock on September 4 with "Hold" rating.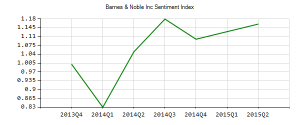 Barnes & Noble Inc - Receive News & Ratings Via Email - Enter your email address below to receive a concise daily summary of the latest news and analysts' ratings with MarketBeat.com's FREE daily email newsletter.