Sentiment for Cerner Corp (NASDAQ:CERN)
Cerner Corp (NASDAQ:CERN) institutional sentiment increased to 1.11 in Q3 2015. Its up 0.02, from 1.09 in 2015Q2. The ratio has increased, as 298 active investment managers increased and opened new holdings, while 269 sold and reduced their stakes in Cerner Corp. The active investment managers in our partner's database now possess: 311.23 million shares, up from 271.67 million shares in 2015Q2. Also, the number of active investment managers holding Cerner Corp in their top 10 holdings decreased from 17 to 10 for a decrease of 7. Sold All: 63 Reduced: 206 Increased: 238 New Position: 60.
Cerner Corporation is a supplier of health care information technology (HCIT). The company has a market cap of $20.25 billion. The Firm offers a range of intelligent solutions and services that support the clinical, financial and operational needs of organizations. It has 40.12 P/E ratio. The Firm offers software, hardware, professional services and managed services.
The stock increased 0.56% or $0.33 on November 25, hitting $59.51. About 2.15M shares traded hands. Cerner Corporation (NASDAQ:CERN) has declined 18.84% since April 24, 2015 and is downtrending. It has underperformed by 17.47% the S&P500.
According to Zacks Investment Research, "Cerner Corp. designs, develops, markets, installs and supports information technology and content solutions for healthcare organizations and consumers that are capable of being implemented on an individual, combined or enterprise-wide basis and are accessible over the internet by consumers, physicians and healthcare providers. Cerner's integrated suite of solutions enable healthcare providers to improve operating effectiveness, reduce costs and improve the quality of care as measured by clinical outcomes." Get a free copy of the Zacks research report on Cerner Corporation (CERN)
Ratings analysis reveals 92% of Cerner Corporation's analysts are positive. Out of 12 Wall Street analysts rating Cerner Corporation, 11 give it "Buy", 1 "Sell" rating, while 0 recommend "Hold". The lowest target is $48 while the high is $87. The stock's average target of $71.23 is 19.69% above today's ($59.51) share price. CERN was included in 23 notes of analysts from August 5, 2015. Deutsche Bank maintained the shares of Cerner Corporation in a note on November 10 with "Buy" rating. Topeka Capital Markets upgraded CERN's stock on a September 8. Topeka Capital Markets has "Buy" rating and $71 PR. Avondale initiated Cerner Corporation's stock on October 21 with "Market Outperform" rating. Finally, RBC Capital Markets upgraded the shares of Cerner Corporation to "Outperform" rating in a September 29 note.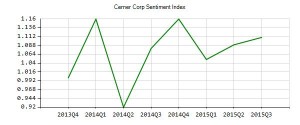 Cerner Corp - Receive News & Ratings Via Email - Enter your email address below to receive a concise daily summary of the latest news and analysts' ratings with MarketBeat.com's FREE daily email newsletter.